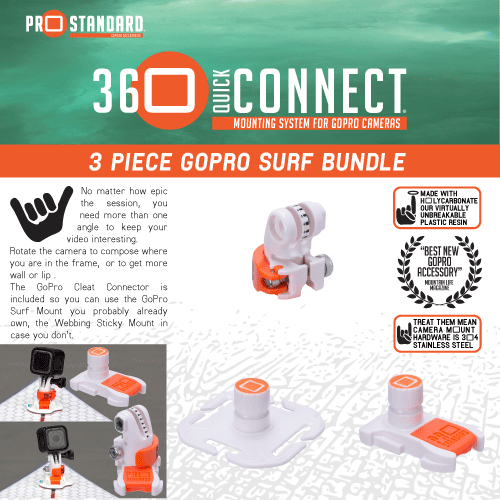 360 Quick Connect 3 Piece Surf Bundle-GoPro Compatible
Regular price $35.00 Sale
 360 Quick Connect attaches to all GoPro mounts and accessories for an instant versatility, durability and high performance upgrade.
No matter how epic the session, you need more than one angle to keep your video interesting. Rotate the camera to position yourself anywhere in the frame. You can rotate the camera so when you surf a left or a right, you can rotate your GoPro to get more wall or more lip. Now you'll be able to really see and get a feeling that matches your memory.
User Feedback
"Every season, we use 360 Quick Connect accessories on the yacht when we shoot Below Deck Mediterranean and Below Deck Down Under. They are the single most useful GoPro mount we have ever used. 360 Quick Connect mounts let us get angles we couldn't otherwise get. The speed that we can set them up and change angles is incredible. Our production crew says they could never go back to shooting with regular GoPro mounts."
Nadine Rajabi - Executive Producer - Below Deck Mediterranean and Below Deck Down Under
"As a professional cinematographer who specializes in documentary television, I use GoPros a lot to get angles and shots that other cameras can't.  The Pro Standard mounting system is legitimately the best system I have found for the action camera ecosystem.  The amount of time I save when having to move and remount cameras is phenomenal.  No more unscrewing thumbscrews, just flip the latch and it's off.  Plus the lifetime warranty is amazing.  In over 2 years, I've only had one mount fail and the company sent me out a brand new replacement the same day.  You can't really ask for better service than that.  I highly recommend this mount system not just for professionals like myself, but for anyone who uses action cameras.  Once you use them, you'll never go back."   
Tyler Mann - Austin TX
The GoPro Surf Bundle Includes:
1 - 360 Quick Connect GoPro Compatible Camera Mount
1 - 360 Quick Connect GoPro Cleat Connector
1 - 360 Quick Connect Webbing Sticky Mount
How To Mount and Use 360 Quick Connect
Use the GoPro Cleat adapter with any previously purchased GoPro Cleat mount such as the GoPro Surf Mount.
Mount the Webbing Sticky Mount directly to your surfboard.
Clean the board so the mounting area is as clean as you can make it. Be sure to make sure that where you mount your Webbing Sticky Mount is clear of wax, dirt, grime etc.
Heat the back the Webbing Sticky Mount slightly with a hair dryer for an even stronger bond. Press and hold the mount in place until boredom overcomes the thrill of a bonding moment with your surfboard.
Attach your GoPro or action cam to the 360 Quick Connect Camera Mount. 
Use the Micro-Adjustable Rotational Tension Dial to set the ease of your rotational tension. You probably want it pretty close to tight or just barely able to rotate the camera by twisting the camera on the mount.
 Go shoot something epic. Remember to rotate the angle every so often so your shots have greater variety.
Tag @theprostandard #360quickconnect when you post on social media, so we can follow you, share your posts and get you more followers.
Protected by Patent #9,778,548 B2
We're so sure that you'll love our GoPro mounts and accessories that we offer a money back guarantee if you don't and a lifetime warranty for when you love our products to death.
If you ever have an issue with any Pro Standard product, let me know. Email me  main(at)prostandard.com or phone us +1-604-966-7640 and we will get you sorted and stoked faster than you would believe. 
Ken